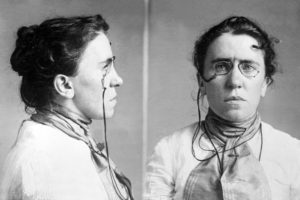 Emma Goldman (1869 – 1940)
Emma Goldman was born in 1869 in Kovno, Lithuania. As a young teen, she was greatly influenced by some of the prominent Russian anarchist writers of the time such as Bakunin and Chernshevsky. When her father denied her further education, insisting that Jewish women only needed to concern themselves with matters of the home, she rebelled. In 1885, at the age of 16, Emma ran away from home and boarded a boat that was bound for the United States.
 Upon her arrival in America, Goldman found a home in Rochester, NY. For a time, she worked in a local garment factory. She married Jacob Kersner, but they divorced dur to marital strife in 1889. She quit her job at the factory and began her path of social activism. She moved to New York's Lower East Side in order to have a bigger platform for her anarchist stances. In 1892, Goldman partnered with a fellow anarchist, Alexander Berkman, when they attempted to strike back at the Carngie Steel Homestead Plant near Pittsburgh where some strikers were killed. Berkman was sentenced to life in prison for attempting to kill the plant's manager. Only a year later, Goldman was jailed for breaking laws that banned anarchist speech in America.
When she was released in 1895, she continued to advocate for anarchist revolution. This time she took a less radical approach stating that the institutions of both racism and religious intolerance needed to be destroyed. She was imprisoned again in 1917 for denouncing the U.S. governments conscription during the First World War. In 1919, she was deported to Russia. While in Russia, she spoke out against Lenin's anti-democratic beliefs and state policies. She then left Russia, and spent the rest of her days as a "woman without a country."
Her whole life Goldman advocated for an end to war, religious intolerance, and racial discrimination. She promoted social justice for the poor and working classes, and called for the ultimate abolition of the capitalist economic system. All the time she never forgot her identity as a Jew. Goldman was ever a strong voice against the violence, hatred, and mistreatment that had befallen her fellow Jews all over the world. Although she was never a proclaimed Zionist or Nationalist. According to one of her biographers, after the outbreak of World War II, Goldman confessed that Jews needed to have a place of their own where they could find refuge.   
https://www.jewishvirtuallibrary.org/emma-goldman
_____________________________________________________________________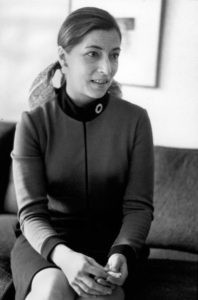 Ruth Bader Ginsburg ( 1933 –       )
Ruth Bader was born in Brooklyn, New York in 1933. Celia, her mother, was the daughter of Austrian Jews who immigrated to America. Her father, Nathan, was a Jew who had come over to the United States from Russia when he was 13 years old. Although her father did not make a lot of money, he and Celia were still able to provide Ruth with an education. She attended James Madison High School and was accepted into Cornell University.
While studying at Cornell, Ruth encountered her future husband, Martin Ginsburg. She achieved a bachelor's degree with notable honors in government and distinctions across all the subjects that she had engaged in. After her graduation, Ruth and Martin got married and then moved out to Fort Sill, Oklahoma where Martin finished his military service. Upon his discharge, Martin begun studying legal studies at Harvard University. Just 14 months after their daughter, Jane, was born, Ruth joined him in the Harvard Law School. While there, she was one of just nine women inside a class that exceeded five hundred students. After Martin recovered from testicular cancer, he became a member of a law firm located in New York City. Ruth transferred to Columbia University in New York for her final year of law school to keep the family together.
Upon entering the professional world, Ruth found her sex to be a hindrance in achieving future advancement in her career. Twelve different law firms interviewed her, but none offered her a job. From 1959 to 1961, she served as a clerk for Judge Edmond G. Paliermi in New York. In 1963, she was made a professor of law at Rutgers University in New Jersey. Seven years later, in 1970, Ginsburg helped co-found The Women's Rights Law Reporter, which was the very first law journal in the United States that was fully committed to issues of gender equality. In 1973, she argued her first case before the Supreme Court of the United States. She continued to appear before the Supreme Court for cases involving discrimination on the basis of sex.
In 1980, sitting President Jimmy Carter appointed Ginsburg to the U.S. Court of Appeals in Washington, D.C. Here she served for 13 years until, in 1993, President Bill Clinton appointed her to the Supreme Court upon the retirement of Justice Byron White who had served since his appointment under the Kennedy Administration. She was only the second woman ever to be appointed to the Supreme Court (the first being Sandra Day O'Connor), and the first woman of Jewish descent to serve. The senate confirmed her appointment by a vote of 96 to 3.
Although there have been a multitude of rumors that she is going to retire, Ginsburg has shown no signs of stepping down yet. She continues to serve as a justice on the highest court in the land, and to set an example for all the children of immigrants and women of America that anything is possible if you believe in yourself and work hard here in the land of opportunity.
http://www.achievement.org/achiever/ruth-bader-ginsburg/
---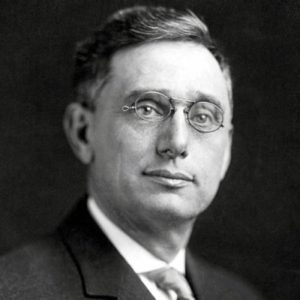 Louis Brandeis (1856 – 1941)
Louis Brandeis was an American lawyer and associate justice on the Supreme court of the United States. He was born November 13, 1856 in Louisville Kentucky, to Jewish immigrant parents from Prague. He was raised in a secular home and attended Harvard Law School, graduating at just 20 years old. During this time, he devised what is still called the "Brandeis brief" which is economic and sociological data, historical experience, and expert opinions that are marshaled to support the legal propositions. He worked to take down monopolies and influenced and supported the Anti-Trust Act and the Federal Trade Commission Act, which strengthened the governments anti-trust power. He also supported Woodrow Wilson's theory of enforced competition among businesses and was appointed by the president to the Supreme Court. Many opposed this nomination because along with the fact that he was Jewish, they felt it would hurt their business's. Brandies believed that, "to preserve federalism, state legislatures had to be able to make laws suited to varied and changing needs." He also worked to restrict state laws when they interfered with the freedom to express ideas. Although he passed in 1941, he was honored with a stamp image in his part of progressive reform in 2009. Brandeis devoted his life to social justice and his ideas on the right to privacy are still widely respected today.
https://www.britannica.com/biography/Louis-Brandeis
____________________________________________________________________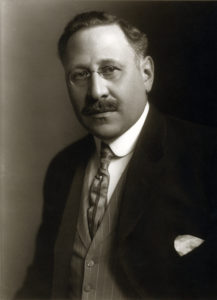 Julius Rosenwald (1862 – 1932)
Julius Rosenwald is an American merchant and philanthropist who was born August 12, 1962 in Springfield Illinois. He was best known as a part-owner and leader of Sears, Roebuck and Company. From the early 1900s he was concerned with the welfare of African Americans and in 1917 he established the Julius Rosenwald Fund. This fund was meant to improve the system of education for black students in the rural South. Booker T Washington encouraged Rosenwald to address the poor state because of the inadequate buildings and books. After this, he built six schools in rural Alabama and funded many charities in that effort. Over the course of his life, Rosenwald and his fund donated over seventy-million dollars to public schools, colleges, museums, Jewish charities, and African American institutions. Rosenwald spent most of his time and money into philanthropy. In 1911 he wrote "The horrors that are due to race prejudice come home to the Jew more forcefully than others of the white race, on account of the centuries of persecution which they have suffered and still suffer." The goal of a Jew is to try to make they world a better place before you die. Rosenwald has done exactly that, plus more. Because of his triumph in philanthropy, there is a bust made in his honor, which is located in downtown Chicago, Illinois.
Source: https://www.britannica.com/biography/Julius-Rosenwald
_____________________________________________________________________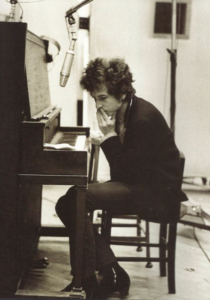 Bob Dylan (1941 – )
Born Robert Zimmerman in Duluth, Minnesota. Dylan was a practicing Jew before converting to  Christianity in the early 1970's.  His music is noted for having both Judaic and Christian messages and overtones.  His later work represents in return to Judaism with implicit Jewish messages dealing with Zionism.   This includes the Zionist "Neighborhood Bully" and "Highway Sixty One Revisited," which recounts the binding of Isaac. Dylan was a passionate anti-war activist, and his work was unorthodox in content, style, and sound. His unique singing voice troubled some critics, but ultimately contributed to his incredible success and long career. Regardless of his religious affiliation, his exploration of morality and spirituality in his music has unmistakable Jewish influences, as he represented himself as a rejected outsider and a frustrated insider, which were both positions in which American Jews frequently found themselves.
Sources: Billig, Michael. "Bob Dylan." My Jewish Learning. November 24, 2003. Accessed March 24, 2019. https://www.myjewishlearning.com/article/bob-dylan/.
_____________________________________________________________________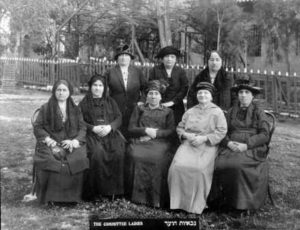 Ezrat Nashim Association (est. 1970) 
American Jewish feminism came to force in the 1970's with the activities of the Ezrat Nashim, a group of young Jewish feminists from New York. Primarily representing Conservative Judaism, the group pushed for equality of women in Judaism in access and status, including the inclusion of women in the quorum of 10 individuals needed for communal prayer. In 1973, the North American Jewish Students' Network organized a conference to discuss those issues in New York City. In the ensuing years, an increasing number of women and men joined the cause to fight for greater gender equality in Jewish practice, including Susan Weidman Schneider and Aviva Cantor, who established the Jewish feminist magazine Lilith. Almost immediately, the movement found nationwide grassroots support that continues to this day. Among the early victories of Jewish feminism is the first ordinance of a female rabbi, Sally Priesand, by Hebrew Union College in 1972, followed three years later with the graduation of the first female cantor.
Source: Hyman, Paula. "American Jewish Feminism: Beginnings." My Jewish Learning. June 05, 2003. Accessed March 24, 2019. https://www.myjewishlearning.com/article/american-jewish-feminism-beginnings/.
_____________________________________________________________________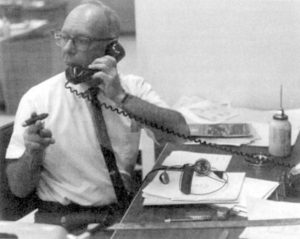 Lester Rodney (1911 – 2009)
Nearly a decade before the great Jackie Robinson broke baseball's color barrier with the Brooklyn Dodgers in 1947, Lester Rodney was working diligently at The Daily Worker on the sports column trying to effect social change. An American Jew from Brooklyn born in 1911, Lester was no stranger to persecution and, because of his personal experiences of bigotry, felt a kinship to African Americans, especially in the world of baseball. The color barrier existed to keep anyone who was not white off the field and in segregated minor leagues. Mr. Rodney knew this was wrong and worked with the black press that covered the leagues and conspired to have a black player make it on to a major league roster. He referred to the ban of blacks on major league teams as "un-American" and "the crime of the big leagues." Given free reign by editors at his paper, Mr. Rodney was able to justly criticize America, baseball, and Adolf Hitler during the Depression as he watched Americans speak out vehemently against the Nazis even though, in their own homeland, African Americans were being persecuted in a different way.
Lester was an inspiration to African American baseball players and writers alike and was effective in mobilizing people to his cause according to University of Pittsburgh historian Rob Ruck. And Jack Ziebel says that when he was 11, in 1937, he joined dozens outside Yankee Stadium to picket in favor of baseball integration; an effort he claims would not have been possible without the many columns written by Rodney, whom he considers a hero.
Eleven years after Lester Rodney's first article against the majors' segregation, he was able to cover Jackie Robinson's debut with the Dodgers. Despite others' regard for his own heroism, there was no greater hero to Lester than #42 himself. With regard to Jackie's efforts and the way he stuck through the violence and hate hurled at him, Lester said, "It has to be the single most heroic act ever performed in the history of sports in this country. I think I can say that. He made a real difference in America."
Source(s):  http://www.thisgreatgame.com/lester-rodney.html  /  www.latimes.com/local/obituaries/la-me-lester-rodney25-2009dec25-story.html.
_____________________________________________________________________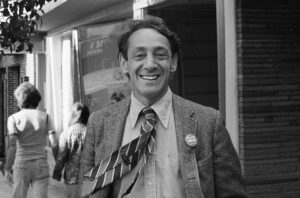 Harvey Milk (1930 – 1978)
A secular Jew from Long Island, New York, Harvey Milk made waves in San Francisco when he relocated in 1972 and began his work of political activism for the LGBT community.  Milk, a gay man himself, was never successful in his pursuit of political office; however, he did win a seat as a city supervisor. During his tenure with the city, Milk sponsored a bill that banned discrimination in public accommodations, housing, and employment on the basis of sexual orientation.
Through his work for the LGBT community, Milk was revered as an icon and, after his assassination, a martyr; in 2002, he was called "the most famous and most significantly open LGBT official ever elected in the United States." In 2009, he was posthumously awarded the Presidential Medal of Freedom by President Barack Obama.
Source(s):  www.jewishvirtuallibrary.org/harvey-milk.
_______________________________________________________________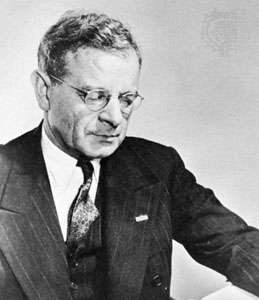 Sidney Hillman (1887 – 1946)
Hillman was born March 23, 1887 in Žagarė, Lithuania to Orthodox Jewish family.   He would later receive a rabbinical education before beginning career in a chemical laboratory in Kovno, Lithuania.  After being imprisoned by the tsarist government for advocating labor reforms, he moved to England after his release before immigrating to America in 1907. Sidney was employed in a men's clothing factory in Chicago, where he led a garment worker's strike in 1910. After moving to New York City, he was elected as president of the Amalgamated Clothing Workers, a union that increased membership under his leadership. The union was able to provide housing development for its members and organized two banks that aided in preserving several garment businesses by granting loans or buying stock during the Great Depression. He would go on to be one of the founders the Congress of Industrial Organizations (CIO) and serve during Franklin D. Roosevelt's presidency (1933-1945) in the National Recovery Administration, the Office of Production Management, and the War Production Board's labor division. In 1943 he became chairman of the Political Action Committee of the CIO, and after World War II he was vice president of the World Federation of Trade Unions. Sidney Hillman's impact on America is seen in the expansion of union functions to include social services and political action, which he pioneered.
Source & Picture: https://www.britannica.com/biography/Sidney-Hillman
_____________________________________________________________________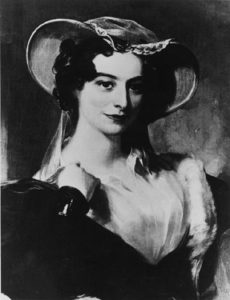 Rebecca Gratz (1781 – 1869) 
Gratz was born in Philadelphia, Pennsylvania, on March 4, 1781, into a wealthy Jewish family.   She is one of twelve children who grew up in Philadelphia's wealthy society as a devout Jew who would go on to be a philanthropist who dedicated her life to service of the less fortunate in America. She was well educated and attended women's academies while reading from her father's extensive library. She would go on to correspond with many renown authors, actors, and educators. At age 19 she began to act as a nurse to her father who had a stroke, during which time she joined her mother, sister, and twenty other women, Jewish and gentile, to found Philadelphia's nonsectarian Female Association for the Relief of Women and Children in Reduced Circumstances in 1801. She would go on to help establish the Philadelphia Orphan Asylum in 1815, and assist her sister-in-law to open one in Lexington, Kentucky in the 1830s. In 1819 she gathered women of her Jewish congregation to create the country's first non-synagogue Jewish charity, the Female Hebrew Benevolent Society (FHBS). With the aid of this society, she would also go on to open a Hebrew Sunday School (HSS) in Philadelphia that was open to children from the Jewish community without a fee. She was a leading philanthropist and educator in Philadelphia until her death in 1869.
Source and Picture: https://jwa.org/encyclopedia/article/gratz-rebecca
_____________________________________________________________________
Stephen Samuel Wise (1874-1949)
Stephen Samuel Wise was a reform rabbi and a Zionist leader during the early 20th Century. Born in Budapest in the Austro-Hungarian Empire Stephen was the son and grandson of Rabbis. He immigrated to New York as an infant where his father became a Rabbi to a Manhattan congregation. He became a rabbi himself in 1900 in Portland Oregon. Wise was an early supporter of Zionism which was atypical of reform Judaism, which historically was non-Zionist. He worked closely with Theodor Herzl until his death in 1904.
___________________________________________________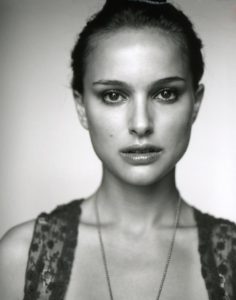 Natalie Portman (1981 -)
Born in Israel to an Israeli father and an American mother. When she was 3 her family moved to the United States and by the age of 9 she was in her first major acting role in "The Professional." Over the course of her childhood she had many major roles and has become one of the leading ladies of Hollywood. She has won multiple awards for her achievements in acting including 2 golden globes, a Screen Actors Guild, British Academy, and Academy awards.
Natalie also managed to graduate from Harvard University, with a major in Psychology. She is very outspoken of politics, especially those of the United States and Israel. She has been involved in many social activist groups. Such as a group called The One Voice Movement whose aim is to fight for an equal solution to the Palestinian-Israeli problem. She is the ambassador of a program called Free the Children that fights woman's rights all over the globe. She donated money to the Times Up movement and served as the Ambassador of Hope for the International Community Assistance, an organization that provides funding to women trying to start their own business. She continues to be involved in social activism as of 2019.
Source(s):  https://www.britannica.com/biography/Natalie-Portman / 
https://www.jewishvirtuallibrary.org/natalie-portman
____________________________________________________________
Daniel De Leon (1852-1914)
Daniel De Leon, who is known for his involvement as a Jewish revolutionary social leader, was born in 1852. He was one of the founders of the Industrial Workers of the World (IWW) and was one of the top advocates for socialism in the early American labor movement. After arriving in the U.S. in 1874 he quickly became involved in the socialist movement but was often criticized for his uncompromising tactics. After joining the Socialist Labor Party in 1890 he was able to work his way up into becoming one of the leading figures in the party a few years later and is credited for transforming it into a national organization. However, he felt that the leadership of the party was not radical enough and in 1895 he led a new faction which split from the others and was known as the Socialist Trade and Labor Alliance (STLA).
De Leon helped form the IWW in 1905 where he was able to successfully merge the STLA with the newly established IWW. His success as a leader in the Socialist movement would eventually come to an end in 1908 after extremist demanded leadership who supported more violent tactics. De Leon was a very influential advocate of socialism and many other organizations across the world adopted his ideas as their own.
Source:    Britannica, The Editors of Encyclopaedia. "Daniel De Leon." Encyclopædia Britannica, Encyclopædia Britannica, Inc., 7 May 2019, www.britannica.com/biography/Daniel-De-Leon.
_______________________________________________________
Sandra Feldman (1939-2005)
Sandra Feldman who was known for her social activism was born in New York in 1939. Her own experiences of growing up in NYC and attending the public schools there would ultimately lead to her commitment to improving the education system. After graduating from high school, she entered Brooklyn College at the age of 16. She gained interest in political activism after meeting a civil rights activist named Bayard Rustin, and in 1963 Feldman helped organize Dr. Martin Luther King's march in Washington for Jobs and Freedom. Her participation in attempts to integrate restaurants in Maryland would lead to her arrest.
Feldman earned a master's degree in English Literature from NYU in 1963 and began to teach elementary school in Manhattan. In 1966, she was hired by the United Federation of Teachers (UFT) as a full-time representative where she would work her way up to eventually become the first woman president of the union. Feldman had gained a reputation as someone who had experience in leading a large union and her innovative methods, and in 1997 she was elected to serve as the president of the American Federation of Teachers (AFT) also. She would be recognized by the U.S. House of Representative in 2004 for her contributions and leadership that helped to improve the quality of learning and teaching. Feldman's career focused on the concerns of children, teachers, and her interest in her own Jewish heritage as well allowing for her to become an influential and powerful voice in the politics of educations not only in New York but also nationally.
Source:  "Sandra Feldman." Jewish Women's Archive,  jwa.org/teach/livingthelegacy/biographies/feldman-sandra.
_________________________________________________________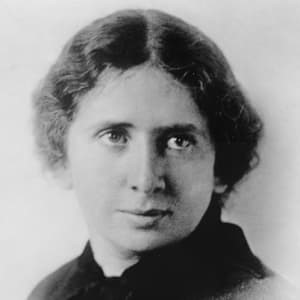 Rose Schniederman ( – )
Rose Schneiderman was raised in the Lower East Side, and as she grew up working in awful conditions in the sweatshops of New York City, she became highly active in the trade union movement, an activism that fully awoke at the preventable fire at the Triangle Shirt Factory, where dozens of female workers perished in the fire. She was the first woman to become a leader in the trade union movement after she was elected to head the Women's Trade Union League.
 Source:  Segal, Sheila, and Gloria Goldreich. Women of Valor. West Orange, NJ: Behrman House, 1996.
_______________________________________________________________
Gloria Steinem (1934 – )
Gloria Steinem is a writer, lecturer, political activist, and feminist organizer. She became nationally recognized and a household name during the American feminist movement of the 1960s and 1970s. Her parents were Leo Steinem, a Jew whose parents were immigrants from Germany and Poland, and Ruth Nuneviller Steinem, a Presbyterian of German descent. She co-founded New York Magazine and Ms. Magazine, and is a co-founder of the Women's Media Center with Jane Fonda and Robin Morgan. Her work as an activist has been for many equality issues, including women's rights, same-sex marriage, and transgender rights. She is a frequent guest speaker on these topics at colleges and universities. President Obama awarded her the Presidential Medal of Freedom in 2013. She has an extensive list of publications that span seven decades.
Source:  http://www.gloriasteinem.com/about
_____________________________________________________________
Barbra Streisand (1942 – )
Streisand was born in Brooklyn in 1942 to an extremely devout Jewish couple, Emanuel and Diana Streisand. Her mother was a housewife and her father worked as an English teacher to inmates at Elmira Reformatory. Her father passed away when she was very young, and her family was left destitute. Her family moved in with her maternal grandparents and her mother worked as a bookkeeper to make ends meet. In her youth, Streisand was sent to the "ultra-Orthodox" Yeshiva of Brooklyn, later graduating from Erasmus High School with a passion for theater despite her mother's deterrents.
The moment she graduated, Barbra was off to pursue her dream in Manhattan, working endless odd jobs until she could achieve a spot in the limelight. She was unsuccessful at first but found solace in the comfort of many fellow actors, some of whom urged her to add singing to her repertoire; taking her penchant for acting and adding song – making herself a theatrical event that was popular with the city's underground bar scene. This. Venue also fostered Streisand's aptitude for comedy; shaping her into the well-rounded performer we know today, and people could not get enough. Every night, the clubs she would play were swamped; hoping for a glimpse at what would inevitably become a star.
Unfortunately, fame remained uneasily attained for Barbra. With her undeniable Jewish looks and tendency towards crassness, what casting agents and producers considered "Jewish comedy," she struggled finding work. Regardless, she did not quit. Nor did she fold under the pressure to change herself when offered a role only if she got a nose job. Barbra Streisand was determined to be undeniably herself, Jewishness and all. And when the Civil Rights Movement of the 60s brought the most aggressive social change of the 20th century, Streisand was able to reap the benefits and found herself a sought-after commodity.
The titles Streisand made famous in their leading roles remain classics today, but some of her best work was when she portrayed characters most like herself; Jewish women. From Fanny Brice in Funny Girl, Dolly Levy in Hello, Dolly, and the teenaged yeshivah boy who was actually a girl in Yentl, Barbra Streisand has been a beacon of hope for not only Jewish women, but women of all ethnicities, religions, or origins. Though not the most outspoken of activists, Barbra Streisand bravely stayed true to herself through a time when so many women like herself were willing to change for fame; she patiently waited for her time to come and, when it did, gave the world no choice but to take her for what she was; a star.
Sources: https://jwa.org/encyclopedia/article/streisand-barbra
__________________________________________________________________
Bette Midler (1945 – )
Midler was in Honolulu, Hawaii to Jewish couple Fred and Ruth Midler, Bette Midler has always had no choice but to stand out; her parents were poor, and she always wanted better. So, with a head of red curls and hooked nose, she made her name by being undeniably Jewish – even using her appearance to her advantage. To most millennials, her witchy image was immortalized on screen through her portrayal of Winifred Sanderson in the Disney hit Hocus Pocus, but she has been wowing audiences both on screen and on stage for years before that and has continued in the years to follow. Most recently, she portrayed a role made famous by Barbra Streisand, Dolly Levy, in Hello, Dolly on Broadway, and has even starred in films with massive names like Goldie Hawn and Diane Keaton with First Wives Club.
However, her humble beginnings afforded her humility and compassion, and with her fame Bette knew she wanted to use her wealth and power for good. She is constantly shining a light on women's plights and uses the films she produces and stars in to do so, like Divine Secrets of the Ya-Ya Sisterhood and a remake of the 1975 film The Stepford Wives. She also wrote a book, A View from a Broad, using her famed humor to draw attention to the struggles of women. But beyond this, Midler has a passion for the environment and, in 1995, established the New York Restoration Project to restore and revitalize parks and gardens in all of the city's Burroughs. In 1999, Mayor Rudy Giuliani threatened to sell many of the city-owned spaces, and Bette arranged to buy them all and created a trust to preserve them.
Today, Midler maintains her environmental philanthropic efforts in New York and remains outspoken for what she believes. With the upcoming presidential election, Midler is making moves to show her support to the democratic party and remains critical of politicians on either side of the board who she feels do not have people, women, or the environment at the heart of their concerns.
Sources: https://www.insidephilanthropy.com/glitzy-giving/bette-midler.html, https://jwa.org/encyclopedia/article/midler-bette
____________________________________________________________________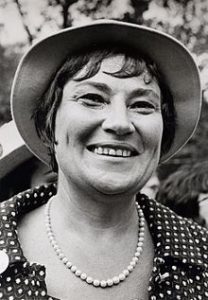 Bella Abzug (1920-1998)
Bella Abzug was the daughter of Russian-Jewish immigrants, she graduated from Columbia Law school and specialized in labor law. After she passed the bar in 1947 spent the next 23 years dividing her time between practicing law, mostly civil rights and labor law, and working on causes that usually had to do with peace and disarmament. Some even defended people accused in McCarthy's red scare.   In 1961 Abzug founded Women Strike for Peace and chaired the organization from 1961 to 1970. She was elected to the House of Representatives in 1970 where she supported the ERA, abortion rights, and child-care legislation. Her firm attitude earned her the name "Battling Bella" among other names. She played a prominent role at the National Women's Conference which lead her to be the cochairman of the National Advisory Committee on Women until she was dismissed for openly criticizing it. She returned to her private practice in 1980 but continued to be politically active. In 1994 Abzug was inducted into the National Women's Hall of Fame.
Source: https://www.britannica.com/biography/Bella-Abzug
_______________________________________________________________
Nathan Hentoff (1925 – 2017)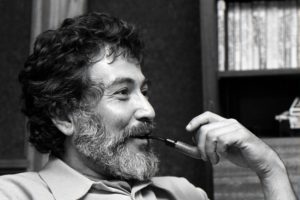 Hentoff is a noted  Jewish American historian, novelist, and pro-life activist. He described himself as "left-wing pro-lifer," and defended the rights of the unborn. Although he was an atheist, he noted the moral downfalls that he thought present in the act of abortion. Hentoff claimed that a culture that allows abortion industry is a "culture of death" in which black babies and babies with down syndrome of other medical conditions are disproportionally targeted. Because of his Jewish ethnicity, Hentoff related to the unborn and claimed that they were modern day scapegoats.
Sources: http://groups.csail.mit.edu/mac/users/rauch/nvp/consistent/hentoff.html
https://lozierinstitute.org/nat-hentoff-pro-life-journalist-extraordinaire/
____________________________________________________________________
Bettina Aptheker (1944 – )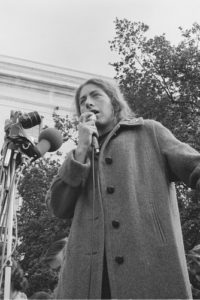 Bettina Aptheker is an American political activist, radical feminist, professor and author. Aptheker was active in civil rights and anti-war movements of the 1960s and 1970s, and has worked in developing feminist studies since the late 1970s. Aptheker was born to a Jewish family Fay Philippa Aptheker and Herbert Aptheker. Both parents were political activists; her mother, was a union organizer, while her father was a Marxist historian, whose first book about slave revolts overturned previous conceptions of enslaved African Americans. He was a major figure in changing the writing of African American history. Bettina was raised in Brooklyn, New York, where her Jewish parents, children of immigrants, had grown up. Her first job as a teenager was in the home of W.E.B. Du Bois, who was a good friend of her father.   Aptheker was a delegate to the June 1964 founding convention of the W.E.B. DuBois Clubs, a Communist Party-sponsored youth organization, held in San Francisco. During the 1970s, Aptheker worked for the defense in the high-profile trial of Angela Davis, a long-time friend and fellow Communist Party member accused of involvement in George Jackson's attempt to escape from jail. She also wrote a book about the trial, which was published in 1974. In 1977, she became an associate of the Women's Institute for Freedom of the Press (WIFP). WIFP is an American nonprofit publishing organization that works to increase communication between women and connect the public with forms of women-based media. She is still alive today and still a passionate advocate for minority rights.
Source:  https://www.discoverthenetworks.org/individuals/bettina-aptheker/
__________________________________________________________________
Samuel Gompers (1850- 1924)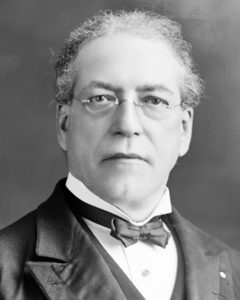 Samuel Gompers was born in 1850 in London, England and his family emigrated to New York City in 1863. He was elected the first president of the American Federation of Labor in 1886 and promoted three principles: he advocated craft or trades unionism, focused on economic reform in order to secure workers' rights and welfare and encouraged labor to follow a course of "political nonpartisanship." To achieve his goals, he actively sought to elect union members and other labor-friendly candidates to political offices. He worked closely with President Woodrow Wilson from 1912-1920 to achieve drastic social and workers reform, which would pave the way for New Deal ideals in the 1930s under President Franklin Roosevelt.
Source:  https://aflcio.org/about/history/labor-history-people/samuel-gompers
_____________________________________________________________