New Amsterdam (est. 1624)
In 1654, a small group of twenty-three Jews arrived in New Amsterdam (modern day New York City) after fleeing from a Portuguese conquest of Dutch Brazil. After arriving the group established a community that would become the first Jewish community to be created in North America. This group was important in establishing a movement of Jews into North America as the Colonies began to grow. The Plantation Act which was passed by the British Parliament in 1740 encouraged immigration to the Colonies, and specifically permitted the naturalization of Jews and others in the Colonies. By 1775, the number of Jewish immigrants had grown to 2,500 in the American Colonies.
Source:
Sarudy, Barbara Wells. "18C Jews, the Revolution, & Geo Washington." 18C Jews, the Revolution, & Geo Washington, 1 Jan. 1970, b-womeninamericanhistory18.blogspot.com/2018/10/acceptance-of-jewish-men-women-in-new.html.
___________________________________________________________
Baltimore (est.  1729)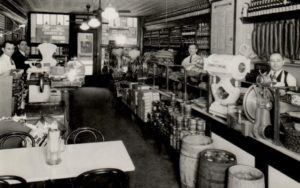 The city of Baltimore served as a safe haven for Jews in the early 18th century America.  Located along the coast of the Chesapeake Bay it served as a port city in the British colony of Maryland. A scarce number of Jews came to the city early on. They may have been discouraged by the discrimination within the Maryland constitution which required that all public office holders pledge an oath of loyalty to Christianity. However, more Jews started immigrating after Maryland's legislature passed the "Jew Bill" in 1826, which allowed Jewish public office holders the freedom to swear a separate oath of loyalty. This was also when they gained equal rights and status as colonial citizens of Maryland.
The increase of religious toleration and the presence of a burgeoning economy within British North America brought a significant number of Jewish immigrants, primarily from the Germanic regions of Central Europe. The Jewish population in Baltimore began to surge. It went from a mere 125 in 1820 to nearly 1,000 by 1840. By the eve of the Civil War (1860), upwards of 8,000 Jews resided in the city of Baltimore. The 1880s saw a massive amount of Jews immigrate to the city. It had reached 24,000 by 1890. In 1907, 40,000 Jews called Baltimore home. Critical mass began to take place by 1920 when they numbered roughly 65,000.
Many of Baltimore's Jews found economic success; although it was not easy. The majority initially had to work in sweatshops and factories. However, many of them left the confines of these places and went into business for themselves. This was usually a family enterprise. Later Jewish immigrants were also lower on the economic totem pole when they first started out in Baltimore. They were cabdrivers, technicians, and street salesmen among other things. They, too, often pursued self-employment when afforded the opportunities.
The city of Baltimore boasted the greatest number of Orthodox Jews within any of America's substantially populated Jewish communities at the end of the Twentieth Century. The city's first Hebrew congregation was established in 1830. Over the ensuing 60 years, both traditionalists and reformers vied for religious supremacy and influence within the city. In 1842, Har Sinai, a Reform congregation, was founded. A smaller congregation called Bikur Cholim was established in 1865. This was Baltimore's first congregation that adhered to the Polish form of worship. More and more strands of Jewish congregations sprouted up throughout the course of the Twentieth Century. By 1999, all of the branches of Judaism were represented, and there were more than 50 Jewish synagogues spread throughout the whole of the city.
The first Hebrew school in Baltimore emerged in 1842. Community-operated schools that studied the Torah and the Talmud saw great success between the 1880s and the 1940s. In the late Twentieth Century, many more Jewish day schools popped up.  In addition, Baltimore also boasted a very flourishing Yiddish-centered social culture. There were all kinds of social outlets ranging from Jewish theaters, bathhouses, and even kosher restaurants.  During WWII, many Jews sought refuge from the Holocaust by immigrating to American cities such as Baltimore. Even today the Jewish imprint on the city can been seen and felt.
Source:  https://www.jewishvirtuallibrary.org/baltimore
_____________________________________________________________________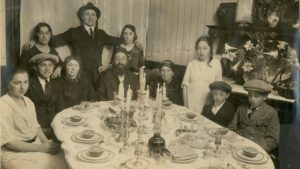 Boston (est. 1630)
Boston became a major manufacturing and distribution center in the 1880s during the Industrial Revolution. It was around this time that many Eastern European Jews made their way to Boston. Jewish immigrants were unique in Boston compared to other immigrant groups because they came with their entire families. As Boston grew cramped, Jews made their way into some of the sub-neighborhoods of Boston such as Roxbury and Dorchester. Like Jews in other cities, Jews in Boston built businesses from the ground up, lived in cramped multi-story houses, and embraced their Jewishness while Americanizing. Many Jews left the city for the suburbs on the North and South Shores of Boston towards the second half of the 20th century, including Brookline and Newton. Today, Boston still holds one of the country's highest populations of Jews.
Source:  https://www.yiddishbookcenter.org/language-literature-culture/heft-notebook/jewish-neighborhoods-boston
_____________________________________________________________
Cincinnati (Est. 1817):
Cincinnati has long been an important center for Judaism in America, with the first Jewish permanent settler, Joseph Jonas, arriving in 1817. This makes Cincinnati the oldest Jewish Community west of the Alleghany Mountains.
Cincinnati has never had the largest Jewish population, but the impact of the Jewish community on the rest of the country cannot be understated and does not reflect their size. It has been called the cradle of the Jewish Reform movement, and Cincinnati is also home to the first English-language newspaper to be found somewhere other than the Northeast. The Israelite, today known as The American Israelite, began its circulation in 1854.
With the arrival of Joseph Jonas in 1817, so came other Jewish immigrants. Cincinnati became a haven for both foreigners and Northeasterners alike, with men, women, and children moving from England, France, the Netherlands, New York, Pennsylvania, and Maryland to start a new life in the Queen City. By 1860, 52% of the Jewish population in Cincinnati was foreign born, with the majority being German and English. These Jewish immigrants came to Cincinnati largely seeking economic, political, social, and religious equality, having been denied it elsewhere.
The first synagogue was established in 1824 – the Holy Congregation of B'nai Israel. The members of B'nai Israel ran school for children, supervised the procurement of Kosher foods, and overall took care of their own within the Jewish community. In 1824, only twenty families were members of B'nai Israel, but by 1860, they had grown to two hundred families.
In 1839, a group of reformed Jewish families left the congregation of B'nai Israel and formed their own – the Holy Congregation of B'nai Jeshurun. Led by Rabbi Isaac Mayer Wise, the over two hundred families of B'nai Jeshurun began to practice a more reformed Judaism. Rabbi Wise was an anti-Zionist, believing that Judaism should be spiritual only, with its goals being peace, justice, and love. Rabbi Wise's reform came in three stages. First, he wanted to unite the Jewish congregations of Cincinnati. Second, he wanted English to become the language used in prayer books, instead of Polish and German. Third, he wanted to establish a college to train American Jews for the rabbinate. Rabbi Wise was not successful in united the Jewish congregations, but the circulation of English-language Jewish prayer books did begin to emerge as early as 1857, to mixed reactions. Still, Rabbi Wise's reform efforts place Cincinnati as an important landing point the Jewish reform movement in America.
Although small, the Jewish community in Cincinnati has always had a positive impact on the Queen City. By 1860, eighteen Jewish organizations, working both inside and outside of the synagogue, were involved in charities around the city. The Jewish community in Cincinnati today remains small, with current population estimates placing them at around 9%. Nevertheless, their impact on Judaism, especially in the 19th century, was quite large.
Source: http://library.cincymuseum.org/journals/files/chsbull/v30/n3-4/chsbull-v30-n3-4-ori-154.pdf
___________________________________________________________
Philadelphia (est. 1682)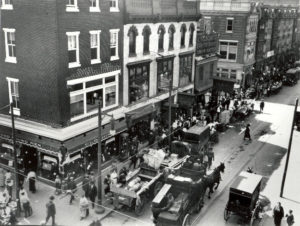 As early as the mid-Seventeenth Century, Jewish traders who were located in the Dutch colony of New Amsterdam (New York, post-1664) began migrating into the Delaware Valley. It was not until 1737, however, that the first permanent Jewish settlement emerged upon the arrival of Nathan Levy, his brother Isaac, his cousin David Franks, and two men by the names Bernard and Michael Gratz. These individuals founded Philadelphia's Jewish community.
The majority of Jews in Philadelphia backed the revolutionary movement in 1776. However, a there were select Jews who held pro-British sympathies such as David Franks, who was subsequently expelled for these sympathies. Many Jews were active in the colonial war effort serving as suppliers, government brokers, and even among the ranks of the Continental Army. Upon the British departure from the city in 1778, Philadelphia became a stronghold for Jewish refugees fleeing other colonial cities such as Charleston, Savannah, and New York City.
By the year 1820, approximately 500 Jews dwelled in Philadelphia; although not even half of them were immigrants. Some of the existing immigrants were not overly fond of the Sephardi services that were held by the Mikveh Israel. In about 1795, these Jews established their own Ashkenazi style of worship and called it the German Hebrew Society. They officially organized into the Rodeph Shalom congregation in 1802. Therefore, Philadelphia was the first U.S. city to boast two Jewish congregations. By 1848, it was home to roughly 4,000 Jews.
In 1849, the first Hebrew high school in the country, Leeser's Hebrew Education Society High School, was founded in the city. Isaac Leeser, for whom the aforementioned high school was named, also went on to establish the nation's first Jewish Theological Seminary there in 1867. Furthermore, Gratz College, America's first Jewish teacher's college was set up in the city of Philadelphia in 1897. And, in 1907, the world's first post-graduate Jewish institution, Dropsie College, was founded in the city of brotherly love.
The city hosted a great number of German and East European Jews, Zionists and anti-Zionists, and Reform and Orthodox Jews that all clashed and vied for influence. However, in the 1930s, with the depression and the rising concerns due to "Hitlerism" in Central Europe, the Jewish community of Philadelphia started to come together. Many different Jewish hospitals, associations, and agencies began to emerge over the course of the 1940s and 1950s. Around 1970, upwards of 100 Jewish congregations existed in Philadelphia.
By the close of WWII, roughly half of the Jewish population was located within the urban center. Ever since the 1960s, many charitable organizations have been founded by Jews in Philadelphia. Over the course of the 1970s, Jews began to move into some of the region's suburban areas. However, by the early 1990s, about 48% still resided in the city center. There are many Jewish organizations and institutions that thrive in Philadelphia. One that is notable is the Jewish Exponent, an award-winning Jewish newspaper which is the second oldest Jewish newspaper in the U.S., having been in continual circulation since 1887.
Philadelphia has been a significant hub for Jewish immigration since the colonial period. In 2009, over 215,000 Jews were estimated to reside within Philadelphia.
Source:  https://dbs.bh.org.il/place/philadelphia
_____________________________________________________________________
New Orleans (Est.  1718)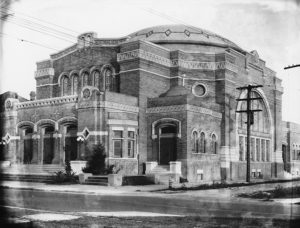 Although the Jewish population does not compete with many of the cities on the east coast, the Jewish community of New Orleans have played an important part of the cities progress. New Orleans is a port town founded by the French in the 18th century due to its location. The city sits where the Mississippi River meets the Gulf of Mexico which made it an easy access for many trade routes throughout North America. In 1757 a Jewish man named Isaac Montano became the first Jew to settle in the city. He was able to obtain some land for his family and with his Jewish connections set up successful trading business across the Atlantic.
Due to the cities focus on trade and its diverse population being in between Spanish, French, and English settlements, there was a lot of diversity, which created a tolerable area for people of different faiths. Many Jews began to immigrate to the city proving to be successful businessmen and merchants. European rulers of the city had laws that forbad any dwellers who were not of the Christian faith yet often the Jews managed to stay due to their abilities as successful businessmen. However, most of the early Jewish settlers were men who came alone, they generally assimilated with the people in the area and married non-Jews.
In the 1820s the son of Isaac Touro, who was responsible for creating the first synagogue in America, Judah Touro, created the first synagogue in New Orleans. As many Jews in the city before him, he came to ignore his Jewish past. However later in life after great financial success in business he reconnected with his Jewish roots and built the synagogue as well as donating money to University of Louisiana for the student each year who learned the most of their Hebrew studies.
Between 1841-1861 there were over 200 Jewish businesses in the city, with the majority being some sort of retail or wholesale businessmen. With their religious connection to Jews in smaller towns in the South these merchants provided credit to their religious counterparts, enabling for many of the rural Jews to be able to flourish with the assistance of financial backers. One of these businessmen, Leon Godchaux, in 1845 he founded his own clothing store and became nationally known as "the sugar king of the South." He became one of the richest men of Louisiana at the time.
In 1921 Isaac Delgado, a Jamaican Jewish immigrant donated the finances to start Delgado Community college, one of the largest community colleges in the state to this day. He also founded the New Orleans Museum of Art.
In 1924 one of the most long lasting and successful department stores to this day, Rubenstein brothers, was created and remains a Jewish family business by Morris Rubenstein and his brothers.
By the 1980s the Jewish population only made up 1% of the Cities population yet 8.7% of the companies that generated a Million dollars or more in the city were Jewish owned and operated.
Source:  https://www.isjl.org/louisiana-new-orleans-encyclopedia.html
_________________________________________________________________
Hollywood (est. 1883)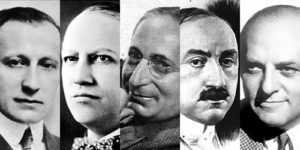 After being shunned and discriminated in New York and Broadway, Jewish writers, producers, and entertainers traveled to Los Angeles in hopes to make it big in the film industry.  However, even in Hollywood in the early 1900s early producers did not want Jewish actors on screen or Jewish stories to be told.   With the rise of nationalism and patriotism associated with the Second World War, Jewish producers laid claim to Hollywood by establishing several major studios. 
Many of these early movie moguls immigrated from Russia or Poland or were second-generation Americans who brought engaging and enriching stories to the big screen. Many joined the film industry after working in retail or garment jobs. By the 1930s, six of the eight major studios were Jewish run.  The moguls were not as orthodox as they were working Jewish. This meant that while they were not devout followers of Jewish Law, their Jewish identity still defined them. Especially in Hollywood where Jewish movie moguls and producers had their own circle filled with nepotism and social clubs.
Metro-Goldwyn-Mayer began in 1924 and is one of the most known studios for
film productions in Hollywood. After Vaudeville, Marcus Loew, a theatre chain owner,
wanted to increase his business and bought Metro Pictures and then later Goldwyn
Pictures which was founded by Samuel Goldfish. His assistant Nicholas Schenck
managed the theatre chain. After collecting Louis B. Mayer Productions, it now became
MGM Studios.
Source(s):  https://www.myjewishlearning.com/article/jews-in-hollywood-1930-1950/ and https://www.warnerbros.com/studio/about-studio/company-history 
_____________________________________________________________________
Dallas (est.  1856)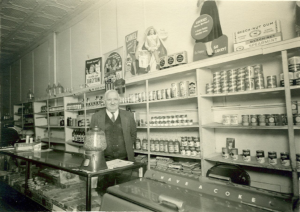 Dallas, which is the second biggest city in the state of Texas and the main industrial and financial center of North Texas saw the earliest Jewish community created in Dallas in 1870 and was composed of 15 families. The early Jewish immigrants were mainly merchants and would play a large part in the commercial development of the Dallas area. Although the Jewish community had long been integrated into Dallas business and industries, the early part of the 20th century saw a rise in anti-Semitism in parts of Texas. As the Dallas Jewish community continued to grow more and more Jews started to work in other specialized jobs such as doctors, lawyers, and engineers. The Jewish population of Dallas which started with a small population of only 15 families now has grown to nearly seven thousand. 
Source(s):   "Dallas' Jews Abandoned South Dallas for Preston Hollow. Why?" Advocate Magazine, 28 June 2017, prestonhollow.advocatemag.com/2017/06/22/dallas-jews-abandoned-south-dallas-preston-hollow/.
"Encyclopedia Judaica: Dallas, Texas." Dallas, www.jewishvirtuallibrary.org/dallas.
____________________________________________________________
The West Side – Chicago
 Chicago's first permanent Jewish settlers arrived in 1841 from Central Europe. Many of these settlers started out as street peddlers with packs on their backs and later opened small stores in the downtown area. Overtime, Jews began to engage in their community and in 1859, they created the United Hebrew Relief Association , which was established by a number of local Jewish organizations. After the Great Chicago fire of 1871, Jews moved out of the downtown area, settling eventually in the nearby communities of Kenwood, Hyde Park, and South Shore. As they moved, they established necessary institutions like hospitals, social and civic clubs and senior living centers. Education and business skills provided many Jews the opportunity to advance economically and may moved to other areas around and within Chicago. The largest number moved to North Lawndale, which eventually became the largest Jewish community in the history of Chicago. A large Jewish population remains in Chicago today.
Source:  http://www.encyclopedia.chicagohistory.org/pages/671.html
_____________________________________________________________
New York City (est. 1654)
New York state has about 1.75 million Jews, comprising approximately 9 percent of its total population of 20 million. Nearly all the Jews live in or around New York City, with more than 1.5 million Jews now live in the eight-county New York area. The state's Jewish population is incredibly diverse, many Jews in New York are Hasidic, secular, atheist, hipster, gay, straight, transgender, Syrian, Bukharan, Russian, Israeli, rich, homeless, middle-class, poor, urban, suburban, rural, doctors, lawyers, teachers, policemen, construction workers, yeshiva students, drug addicts, in-married, out-married, unmarried, Republican, Democrat, libertarian, socialist and a million other things. The Jews who immigrated to New York City from the 17th century to the 21th century represented the sheer diversity of the city. The traditional way of periodizing the immigration of Jews to New York sees three waves of arrivals. There was an early population of Jews who arrived from the Dutch colony of Recife in 1654 to New Amsterdam. In the middle of the 19th century, Jews who came mostly from Central Europe were German speaking. In addition to participating in German American communal affairs, they had a separate communal existence with their own synagogues and fraternal societies. The largest influx of Jews came at the end of the 19th century and in the early 20th century.  The Jewish population in New York went from about 80,000 in 1880 to 1.5 million in 1920. They were able to assimilate while retaining some of their own traditions, New York is a very special place to them because in the modern period, there was a lot of struggle and conflict within the Jewish community about what being Jewish meant. But in New York, they could be anything that they wanted to be. You could be an individual who was completely unaffiliated with the community or a secular Jew that is not religious at all, but still affiliated with Jewish cultural activities, organizations, and philanthropy. You could also be a traditional or Orthodox Jew and find synagogues and Kosher foods. Jews played a large role in creating a kind of New York liberalism, in addition to cooperative housing, municipal hospitals, and cooperative health insurance plans. Central and Eastern European Jews pioneered the rise of the garment industry at the end of the 19th century as well.
Source(s):
https://www.jta.org/2016/04/18/politics/7-things-to-know-about-the-jews-of-new-york-for-tuesdays-primary
https://web.archive.org/web/20151223145716/http://gothamist.com/2012/06/12/jew_york_city_nyc_has_more_jews_tha.php
https://news.fordham.edu/inside-fordham-category/faculty-reads/tracing-history-jewish-immigrants-impact-new-york-city/
__________________________________________________
Charleston. SC (est.  1670)
The earliest Jewish communities in the South were mostly made up of Sephardic Jews from England and the Netherlands. These Jewish immigrants had fled the Spanish inquisition in Spain and Portugal in the late 15th Century. Charleston South Carolina would become a southern city with the largest population of Jewish with nearly 2,000 living there by 1800. With this number South Carolina would have more Jewish inhabitants than any other state in the U.S. Another key milestone for Jewish Americans would take place in South Carolina in 1774 the first Jew would be elected into public office, Francis Salvador. One common misconception is that the birthplace of Reform Judaism was in Cincinnati Ohio, when in reality it was Charleston South Carolina.
Source:
___________________________________________________________________