Finance and Commerce:  
Jews have played an integral role in finance and commerce since the Middle Ages.   This is especially true when it comes to international trade, in not only the Christian world but also the Muslim world as well.  One of the keys to this success in finace and commerce was the fact that Jews had certain definite advantages, such as sharing a common language. Thus, Jewish merchants from France and Germany were able to converse in Hebrew at least with their colleagues in eastern Europe, and in Muslim countries or in Sicily, where Greek and then Arabic were the spoken languages. Also, through the use of such things as letters of credit and checks, they could be recognized by Jewish "bankers" – to the extent that these, essentially money changers and lenders, could be called bankers.   In point of fact, however, aside from some isolated cases we hear next to nothing about such Jewish traders. The major instance of Jewish involvement in trade with Muslim countries was slaves, but even here Jews served as middlemen in the ultimate sale of Scandinavian and other as yet non-Christian slaves to Muslim purchasers. Jews, along with other merchants, had to pay various tolls and duties; sometimes these were paid in pepper, a valuable commodity. The freedom of travel that Jews enjoyed was nevertheless restricted to some extent by Jewish law. Thus there was a ruling that if a Jew owns a ship or wagon he is not allowed to rent it to a gentile to use on the Sabbath. 
____________________________________________________________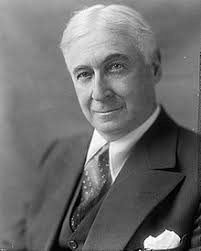 Bernard Baruch (1870 – 1965)
Born in 1870 into a Jewish family of high station in Camden, South Carolina.    His father was a Polish immigrant who served in the Confederate Army during the Civil War and rose to prominence as a general practitioner doctor.   Baruch studied finance and commerce at the City College of New York.   Upon graduation he took a job at A.A Houseman and Company.   Known as the lone wolf, Baruch went on his own and started his own firm by 25 years of age.  Baruch became a millionaire by age 30 having made a fortune in sugar cane from Hawaii.   Within the next 15 years he would become one of the most successful brokers and financiers on Wall Street.   Baruch became a large supporter and donor to the Democratic party.   His support would be recognized by President Woodrow Wilson who named him Advisor for the Commission of Council of National Defense in 1915.
Baruch remained very influential in the political world. He accompanied President Wilson at the Versailles Peace conference at the end of the First World War in 1918.  Baruch would later become a member of President Roosevelt's so-called "Brain Trust" which helped draft the details of Roosevelt's "New Deal." Advocated for American to plan to acquire supplies like rubber and tin for possibility of second World War to build weapons, planes, tanks. Etc. Remained an advisor to Roosevelt throughout the Second World War played a major role in helping United Nations decide what countries should and should not control Atomic energy. Was influential for so long he was often referred to as the "elder statesman."
Source(s):  https://www.jewishvirtuallibrary.org/bernard-baruch
https://www.britannica.com/biography/Bernard-Baruch
________________________________________________________________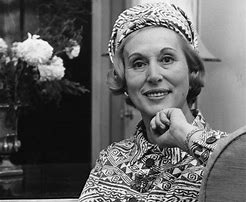 Estée Lauder (1906 – 2004)
Estée Lauder was born and raised in Queens, New York to Hungarian immigrant parents.   She was a devout Jew who practiced her faith throughout her life.   Lauder grew up working in her father's hardware store where she learned how to properly conduct business and create new products.   Following the steps of an Uncle, she worked endlessly trying to create perfect lotions and creams.   She married Joseph Lauter, they changed name to Lauder, and they created the Estée Lauder corporation. She was innovative in her approach to marketing her brand. She would give out samples to woman and by word of mouth her company grew. In 1958, the company employed 5 people and made $850,000. By 1973 there were 1,000 employees and $100,000,000 in sales. Her company grew into a large multi-national company and to this day has yearly incomes that exceed $1,000,000,000.
Lauder's success enabled her to be one leading Jewish philanthropist  not only in America, but throughout the Europe as well.     She helped pay for the three adventure playgrounds in Manhattan, NY.   Lauder also contributed to the restoration of the Palace of Versailles in France.   Other contributions included donations to the National Cancer Care Association and many other causes.
Source(s):  https://www.jewishvirtuallibrary.org/est-eacute-e-lauder
https://www.britannica.com/biography/Estee-Lauder
___________________________________________________________________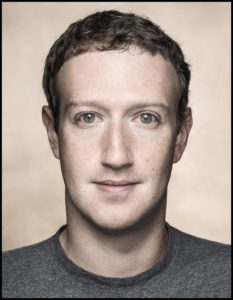 Mark Zuckerberg (1984 – )
Mark Zuckerberg is the founder of Facebook a leading social media platform founded in 2004.    He was joined by three other Harvard students: : Eduardo Saverin, Dustin Moskovitz, and Chris Hughes.   Facebook was originally a website for Harvard students to socialize on, but quickly became so popular that it expanded to service other universities.  Due to commercial potential and popularity it was taken public by 2006. In the years since, Facebook has become synonymous with the social media industry. Zuckerberg remains the Facebook CEO, and although he has been the center of frequent controversy, he is considered the product of one of America's greatest modern success stories. Facebook arguably paved the way for the success of later social media networks like Twitter, Instagram, and Snapchat, and despite being the oldest, Facebook remains competitive with those brands in 2019.
Source: https://www.britannica.com/topic/Facebook
______________________________________________________________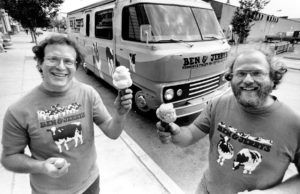 Ben Cohen (1951 – ) and Jerry Greenfield (1951 – ) 
Ben Cohen and Jerry Greenfield began Ben and Jerry's in 1978, after deciding that an ice cream company would be more profitable than a bagel company. They had been childhood friends in Brooklyn; Greenfield had studied in medical school, and Cohen had only graduated high school but had been making ice cream as a hobby. The first shop in Burlington, Vermont was highly successful due to its original flavors and Ben and Jerry's community engagement. Within 3 years, during which the company had begun to supply local grocers and hosting events, a second Vermont location opened, and by 1988 there were shops in 18 states. Jerry Greenfield was responsible for creating all the new flavors, but as the company became larger and more complex, the founders could no longer operate the company by themselves. Though Ben and Jerry's underwent structural changes in the late 1980's and has evolved over time, its still holds to several key tenants that had made Cohen and Greenfield successful in the first place: these include avid community interaction and strict environmentalism.
Source: https://www.thebalancesmb.com/ben-and-jerry-s-the-men-behind-the-ice-cream-1200942
_________________________________________________________________
Micheal Bloomberg (1942 – )
Michael was born in Massachusetts in 1942. He grew up there and put himself through his collegiate education at John Hopkins and later an MBA from Harvard Business school by working odd jobs. Within 15 years of his first job he had already made his way to be a partner with his company, Salomon Investment Bank. The company's buyout enabled Bloomberg to finance his own Financial Services Company, eventually called Bloomberg LP. His company remains one of the largest Financial firms to date.
He has been involved in many philanthropic and leadership positions. Sitting on boards and making donations to places like the Lincoln Center for the Performing Arts, Metropolitan Museum of Art, and the Jewish Museum. He also donated a large amount of money to the John Hopkins University to help fund research for advancements in health and science.
With his success he personally financed a run for Mayor of New York City, which he was elected for 3 terms in a row. Among his time as mayor he improved the cities education system, seeing a 20% increase of high school graduation. He successfully banded smoking in all public building of the city, reduced crime rate by 20% and helped the city advance in many other ways.
He remains active today in many philanthropic activities and has received numerous awards for his accomplishments. Amongst these include an honorary degree from Harvard University for his efforts and accomplishments in civil service. He won the Genesis prize, which is an award issued by the state of Israel for Jewish individuals who achieve great accomplishments in their fields.
Source(s):   https://www.nytimes.com/2013/10/21/nyregion/bloomberg-is-first-to-receive-a-1-million-jewish-award.html
https://news.harvard.edu/gazette/story/2014/05/eight-to-receive-honorary-degrees/
https://www.britannica.com/biography/Michael-Bloomberg
_______________________________________________________________
Ted Arison (1924-1998) 
Ted Arison was a shipping magnate and the founder of the Carnival Cruise Lines. He fought in World War II as part of the Jewish Brigade of the British Army and would also serve as a Lieutenant Colonel in Israel's War for Independence. In the early 1950s he moved to the U.S. and created a major shipping business which would lay the groundworks for the creation of a holiday cruise line. Under his leadership the Carnival Corporation would acquire other cruise lines and would become the biggest cruise line operator in the world at the time. In 1994, he invested in banking and a construction company which would help grow the business empire that he had created, and his estimated personal fortune was said to be worth around $10 billion. Arison was a large advocate of the arts and his foundation was active in many philanthropical projects in both Israel and the United States.
Source:   Ted Arison, www.jewishvirtuallibrary.org/ted-arison.
______________________________________________________________
Michael Dell ( – )
Michael Dell is best known as an American business magnate and as the founder, chairman, and CEO of Dell Incorporated. He has become one of the richest people in the world with a net worth estimated to be around $14.6 billion. He was born in 1965 to wealthy Jewish family who resided in Houston, Texas. During his time as a pre-med student at the University of Texas he created a small business that would upgrade computers which would ultimately result in him attaining a vendor license and getting contracts from the State of Texas. In 1984, Dell registered his company and his new business which sold upgraded PCs, add-ons, and other components. In 1992 at the young age of 27, Dell became the youngest CEO to have their company ranked in Fortune Magazine's list of top 500 corporations and Dell Inc. would become the world's largest PC maker at the time. In 2004, Dell stepped down as CEO but would stay on as chairman of the board. Dell is known as a devoted philanthropist and has founded projects for the Jewish community in Austin and for his alma mater, the University of Texas.
Source(s):
"First Jobs: Michael Dell." Our American Network, www.ouramericannetwork.org/story?title=First-Jobs-Michael-Dell /  
Michael Dell, www.jewishvirtuallibrary.org/michael-dell.
_____________________________________________________________
Charles Lazuras ( – ) 
Charles Lazarus was the first retailer to mass-merchandise toys at across-the-board discount prices. Toys R Us Inc is known as one of the biggest success stories in retailing.   A disgruntled mother and a broken doll led Lazarus to pioneer the first one-stop-shipping supermarket for toys.  toys at across-the-board discount prices. Toys R Us Inc is known as one of the biggest success stories in retailing.  After returning from WWII, he decided to go into business for himself, so he rented his father's former bicycle-repair shop on the ground floor of the house he was born and grew up in.   "I came out of the service after the war, and everyone I talked to said they were going to go home, get married, have children and live the American dream" Lazarus says. Lazarus saved a few dollars while in the service, so he decided to open his father bicycle repair shop. Instead of selling bicycles, he would sell cribs, carriages, strollers, high chairs and everything for the baby. As Lazarus learned the ins and outs of running the first store, he began to realize that the key to success was listening to the customers' needs and fulfilling them. By the early 1950's, Charles made enough money to open a second store. In 1957, he opened a second "toy supermarket" and named it Toys "R" Us, with the "R" backwards. In 1966, Lazarus had four stores that together sold about $12 million worth of toys each year. To finance further expansion, he sold the whole operation to Interstate Sales for $7.5 million in cash. As part of the deal, Lazarus stayed on as head of the toy division. Toys "R" Us continued to flourish under Lazarus' direction, but the same was not true of Interstate. A victim of ill-managed growth, the company was forced to file for bankruptcy in 1974.
Source: https://www.entrepreneur.com/article/197660
______________________________________________________________
Lane Bryant (???? – ????)
She was a fashion entrepreneur and pioneer in the best sense of the word, long before Donna Karan or Liz Claiborne. She pioneered niche marketing and mail-order merchandising, as well as innovative work practices and progressive advertising. She was born in Lithuania in 1879 and came to the United States alone at age sixteen. She supported herself as a seamstress, beginning at the weekly wage of one dollar. She eventually earned the unusual wage of fifteen dollars per week because of her excellent skills. David Bryant, her husband, was a Russian jeweler. He died shortly after they had their son, so she supported both herself and her child with her work as a seamstress. She specialized in lingerie and bridal sets, and she earned enough by 1904 to open a store with living quarters in the rear. She became Lane because of an error when she first opened a bank account. One of her early innovations was a garment that was used for maternity wear. While proper women were not seen on the streets while pregnant, one of her clients asked her to design a garment she could wear in public— "something presentable and comfortable". It was an elasticized waist and an accordion-pleated skirt, it was an instant success and soon became the store's major product. Lane remarried in 1909 to who became her business partner, Albert Malsin. Lane continued to concentrate on the design aspects of the business, while Albert took over the business aspects of the firm. By 1909 the business had an annual income of over fifty thousand dollars. Maternity garments were a major source of sales for Lane Bryant, but no newspaper would advertise that until in 1911, the NY Herald was induced to accept an advertisement. The businesses entire stock was sold out the next day. Lane also represents the immigrant worker who, through her initiative, rose from poverty to wealth. She combined her career, marriage and motherhood at a time when marriage often marked the end of paid work, She demonstrated through a life of innovation, hard work, and care for others, a Jewish consciousness and an appreciation for others' needs.
Source: https://jwa.org/encyclopedia/article/malsin-lane-bryant
________________________________________________________________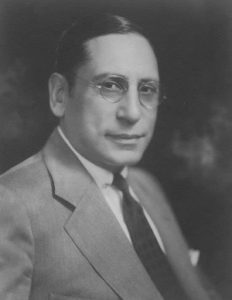 Herbert Marcus (1878-1950)
Herbert Marcus was born to a Jewish family in Louisville, Kentucky.  After dropping out of high school, he moved to Hillsboro, Texas to be closer to his brother Theodore. Marcus worked in retail for Sanger's Department store, and in 1899 he moved to Dallas, Texas. In 1905, he left his job at Sanger's and moved to Atlanta, where he and his brother-in-law, A.L. Neiman, got work with the then infant Coca-Cola Company. In 1907, they were able to earn a buyout of $25,000, which Neiman and Marcus used to establish Neiman Marcus back in Dallas. Their goal was to make Neiman Marcus a destination for high end women's clothing, and they aimed to be the best in the West. Carrie Marcus Neiman, Marcus' sister and Neiman's wife, was in charge of procuring all the high-end clothing necessary for the store. Upon Carrie and Neiman's divorce in 1928, A.L. Neiman's shares were bought out by Marcus, and Marcus became the sole head of Neiman Marcus. In Dallas, he became the president of Temple Emanu-El and as the director for the Dallas Museum of Art.  Today, Neiman Marcus is still an important player in the high-end retail market, with over 13,700 employees and over $4 billion in annual sales.
Sources: http://www.jmaw.org/neiman-marcus-jewish-dallas/
______________________________________________________________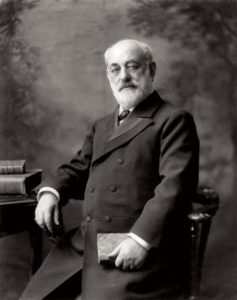 Marcus Goldman (1821-1904):
Marcus Goldman was born in Germany in 1921 and immigrated to the United States in 1848. Along with Samuel Sachs, he is one of the original founders of Goldman Sachs. Today, Goldman Sachs is one of the world's largest global investment banks. Goldman started off as a peddler and a shopkeeper in Philadelphia, Pennsylvania. Upon moving to New York City in 1869, he worked in brokerage. Goldman's innovation in using commercial paper and making them more efficient remains a large part of his legacy. In 1882, he invited his son-in-law, Samuel Sachs, to join him in business, and they were soon turning over $30 million a year. Goldman retired in 1894 and left the company to Sachs.
Source(s): https://www.jewishvirtuallibrary.org/marcus-goldman-and-samuel-sachs
https://www2.goldmansachs.com/our-firm/history/index.html
_________________________________________________________________
Ralph Lauren (1939 – )
Ralph Lauren was born Ralph Lifshitz on October 14, 1939 in New York City. His parents Frank and Frieda were Ashkenazi Jewish immigrants from Belarus. Ashkenazi refers to Jewish settlers who started communities in Rhineland, Germany and Provence, France. A lot of Ashkenazi Jews still live in these areas today. Ralph and his brother, Larry changed their surname from Lifshitz to Lauren when Ralph was 16 years old after years of being bullied in school. After high school, Lauren went into the Army, but got out shortly after joining. He went to work for Brooks Brothers during the day and designing neckties at night under the brand name of "Polo". Lauren sold these neckties to multiple department stores at the time, including Bloomingdale's. Shortly after, Lauren took out a $30,000.00 loan to begin designing more than just neckties. Finally, in 1972, he had a breakthrough. A short sleeve, two-button pullover shirt with a collar; The polo shirt. He introduced this shirt to the market in 24 colors with the iconic polo horse logo on the front left of the shirt. Today, Ralph Lauren Corporation owns eight brands and had $6,182,000,000.00 in revenues in 2018. Lauren still serves as the Executive Chairman and CCO of the business after taking a step back in 2015. If not his iconic brand, Lauren is also known for his immense car collection of over seventy cars and totaling a mere $300,000,000.00.
Sources:  https://www.jewishhistory.org/ashkenazic-jewry-in-france/
___________________________________________________________________
Levi Strauss (1829-1902)
Levi Strauss, born Loeb Strauss, was an Jewish entrepreneur and the founder of the historic Levi Strauss & Co., also known as Levi's, a world famous blue jean company. Originally, Levi Strauss & Co. imported and distributed dry goods. However, in 1872, he was introduced to the 501 blue jean by the inventor, Jacob Davis, and Strauss invested in the product. The jean was heavy-duty and allowed for more flexibility and mobility by the wearer, making it a perfect purchase for miners. Today, Strauss regarded as one of the most prominent people associated with the Gold Rush and the Levi Strauss & Co. has been named one of the top richest fashion brands by Finances Online, ranking number ten.
Source:  http://www.americanjerusalem.com/characters/levi-strauss-1829-1902/18
_______________________________________________________________