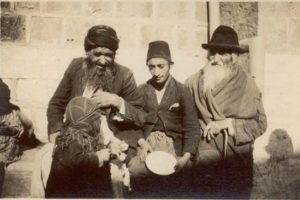 The First Wave (1654 – 1860):
The expulsion of Sephardic Jews (Jews descended from Iberian Peninsula) from Spain in 1492 resulted in a long period of Jewish diaspora. Because of their unwillingness to convert to Christianity, around 100,000 Jews fled Spain. Many of these Jews settled in Portugal, who also eventually expelled both Protestant Christians and Jews in 1654. Although most of these Jews migrated to Holland, twenty-three sailed to New Amsterdam and established a Jewish Community in 1655; thus beginning the first wave of Jewish immigration to America. This small Sephardic Jewish community and the openness to Jewish communal life in colonial America encouraged more Jews to immigrate. As a result, many Sephardic and Ashkenazic Jews established their own communities in American colonial ports such as Newport, Philadelphia, Charleston, and Savannah. By 1820, the Jewish population in America had exceeded 2,500 and made up .03% of the U.S. population.
Source(s):  https://www.jewishvirtuallibrary.org/sephardim
http://americanjewisharchives.org/education/timeline.php
____________________________________________________________________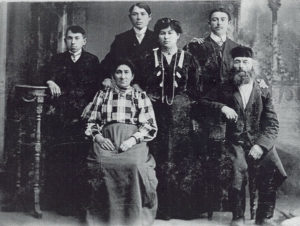 The Second Wave (1820s – 1880s):
The second wave of Jewish immigration to the United States, beginning around the 1820s, was primarily made up of German Jews. Although a few that immigrated in the 17th century, they did not fully resonate and establish large communities until early in the 19th century. Political oppression began to take a toll on the Jews living in Germany, sparking their desire to immigrate to a more welcoming environment that was more tolerant of their beliefs and practices. In Germany, Jews were prohibited from specific trades and professions, exposed to land seizures, forced to purchase a registration certificate or a matrikel, to get married, and were confined only to work in trades that were deemed "unworthy." Because of this political persecution, over 195,000 German Jews decided to immigrate to America between 1820 and 1870, raising the percentage of the Jewish population in the United States from .03% to .52%.
Source(s):  https://www.myjewishlearning.com/article/jewish-immigration-to-america-three-waves/
_____________________________________________________________________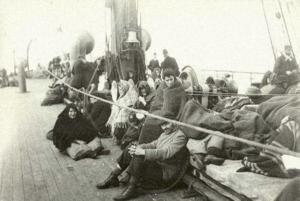 The Third Wave (1880s – 1920s):
In the late nineteenth-century, the trip from Europe to America was often cramped, dirty, and unhealthy. At the time when Russian Jewish immigrants were coming to the United States en masse (c. 1882-1924), steamships were the most common form of transportation across the ocean was the steamship. These steamships carried thousands of people, rich and poor. The wealthiest usually rode in the nicer cabins, where other individuals could only afford steerage; these ships would not unusually have six times the steerage passengers as were in cabins. Many Jews could only manage steerage tickets, most having been unable to become truly wealthy in anti-Semitic Europe. The environment aboard the cramped lower levels of these ships would frequently not be unlike those of the Lower East Side.
Source: https://www.myjewishlearning.com/article/ellis-island/
_____________________________________________________________________
Ellis Island (est.  1892)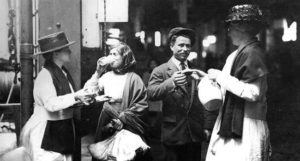 When early Russian Jewish immigrants reached Ellis Island, they did not find a particularly welcoming environment. It was a rough, stressful ordeal to make it past and into the U.S. proper. Before 1911, kosher food was not provided, leaving observant Jews without food unless they had the resources and forethought to have brought enough with them before the transatlantic trip. The Hebrew Immigrant Aid Society, founded in 1902, did much to ease the burden of these newcomers. When needed, it interpreted for them, provided temporary housing, fed them, and provided other services. The HIAS was one of many Jewish help organizations that hoped to increase Jewish success and cohesion and was especially important to making the first steps in the process of Americanization easier.
Source: https://www.myjewishlearning.com/article/ellis-island/
_____________________________________________________________________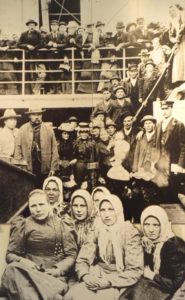 Urban Centers (1880 – 1945) 
Multiple culturally distinct areas along the eastern seaboard housed Jewish immigrants who came to America in the late 1800s.   They would reside along the East coast and spread westward in the coming decades.   Popular destinations included the Lower Eastside, Boston's North End, Philadelphia South End, Baltimore East End and the West Side of Chicago.  Each would serve as prime examples of Jewish enclaves for the next fifty years until many eventually move to the suburbs.   Russian Jews especially made these areas their home due to the larger number of single males who journeyed from Russia looking for a better life and work. German Jews typically crossed with family and moved into the hinterlands searching for business ventures and opportunities.   However, most Jewish immigrants would be confined in these crowded cities. Living conditions were dire and ridden with disease, filth, and squalor.
Source: https://www.myjewishlearning.com/article/urban life/
_____________________________________________________________________
Industrial Removal Office (Est. 1901):
In large part, Jewish immigrants were flocking to New York City at the turn of the 20th century. Because of this, New York City became very crowded, and the Jewish Industrial Removal Office created the Jewish Agricultural Society in order to help Jews move out of the overcrowded cities and into the more spread out South and West. They would help Jews find work, a home, and give them the basics to allow them to start a new life. The Industrial Removal Office was, for the most part, headed by German Jews, with its headquarters located in New York City. By 1922, the Industrial Removal Office was all but gone, but in its twenty-one years of operation, more than 79,000 Jews were moved to over 1,000 different American cities. This helped alleviate the overcrowding of New York City, which by 1900, held 500,000 Jews, most of whom were living in the Lower East Side. As a result, living conditions were often very poor. The IRO gave American Jews a second chance to pursue the American dream in much less crowded cities.
Source: https://www.tabletmag.com/jewish-arts-and-culture/254781/industrial-removal-office
__________________________________________________________________
The Galveston Movement (1907-1914):
The Galveston Movement, also referred to as the Galveston Plan, was a plan by Jewish outreach organizations to divert incoming Jewish immigrants away from the East Coast, especially from New York City. New York City was becoming overcrowded, so the Galveston Plan was put into place to try to alleviate some of the space issues. Anti-Semitic pogroms in Russia in the late 19th century sent more Jews to America, and more than 10,000 of them were sent to Galveston. Rabbi Henry Cohen of B'nai Israel of Galveston was in charge of welcoming immigrants in and helping them begin their journey. Galveston was chosen because it was an unlikely place for incoming immigrants to stay, and instead they would disperse throughout Texas, where economic opportunity was high. Between 1909 and 1911, 4,600 Jewish immigrants passed through the port of Galveston. Although not a high number on the surface, Texas had a relatively small population at the time, and that 4,600 would have represented around 12% of the total population. Due to anti-Semitism within Galveston, the port of Galveston was closed off from Jewish immigrants in 1914.
Source: https://www.myjewishlearning.com/article/the-galveston-movement/
_______________________________________________________________
The Hebrew Immigrant Aid Society
The HIAS was founded in 1881 in response to the late 19th- and early 20th-century exodus of Jewish emigrants from Imperial Russia. In 1904, HIAS established a formal organization on Ellis Island, the primary arrival point of European immigrants to the United States at that time. They provided translation services, guided immigrants through medical screenings, argued before the Boards of Special Enquiry to prevent deportations, lent needy Jews the $25 landing fee, and obtained bonds for others guaranteeing their employable status. They also facilitated legal entry, reception, and immediate care for the newly arrived. During this period, resettlement of Jewish immigrants also included assistance in obtaining U.S. citizenship. To achieve citizenship, the Jews had to learn English and become familiar with American culture. The HIAS offered educational courses for immigrants and also partnered with other local Jewish organizations. Today, HIAS is still an active society in the United States and throughout the world.
Source:  https://en.wikipedia.org/wiki/HIAS
________________________________________________________________
The Hebrew Technical Institute
Founded on January 7, 1884, the Hebrew Technical Institute was a vocational high school in New York City. It was opened in response to the influx of immigrated Jews and offered them a way to make a living in the New World. After completing two years at the school, students could specialize in wood-working, pattern making, metal working, instrument making, mechanical drawing, architectural drawing, wood carving, free-hand drawing or applied electricity. The school was founded after three Hebrew charity organizations formed a committee to promote technical education for the many Jewish immigrants arriving in New York at the time. It was praised by the Jewish community for offering modern education.
Source:  https://en.wikipedia.org/wiki/Hebrew_Technical_Institute_(New_York_City)
_________________________________________________________________